Wo Peng specializes in Cantonese Cuisines and we aim to serve the most authentic Cantonese dishes to our customers. Learn about how it all started today.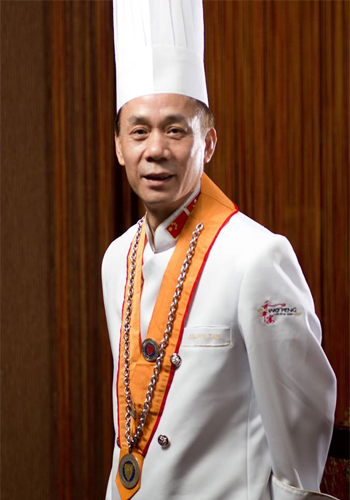 Platinum Award Winning Hong Kong Chef, Julian Tam Kwok Fai, not only he is the first to introduce the "Poon Choy" concept into the Singapore Chinese cuisine as a festival new year delicacy, he is also the first to convert "Poon Choy" into a dish which can be enjoyed daily. Customers appreciate Chef Tam's passion and knowledge in traditional Hong Kong style Chinese cooking much and will never disappoint by his delicacies.
白金奖香港名厨,谭国辉师傅,不仅是本地第一位厨师推广新年盆菜,也是第一位厨师把盆菜从新年菜转型为日常佳肴。他对传统香港中餐那份热情和烹饪风格,正是食客们欣赏之所在;他炮制的美味珍肴,保证不会让您失望。
Wo Peng aims to serve you the best traditional and authentic
Hong Kong style Cantonese cuisines.

Chef Specialities includes: Traditional "Hong Kong Wei Cun Poon Choy", Smoked Roasted Duck with Rice, Tea Leaves and Camphor Wood, Buddha Jumps over the Wall and Baked Lobster Noodles with Superior Stock.
We also do serve handmade Hong Kong Dim Sums such as: Barbecue Pork Buns with Preserved Leaf Mustard, Skewer Fry Pork Siu Mai and more.
谭师傅的撚手名菜包括著名的香港围村盆菜、镇店京川樟茶鸭、原鼎鲍鱼佛跳墙、上汤龙虾焖伊府面。
我们也有手工制作的香港点心,列如自创梅菜叉烧包和串烧烧卖等。